About Daniel
Daniel has grown cacti and other succulents since he was a young boy, and now almost 40 years on still keen to learn all there is to know about his passion. It is now officially a hobby gone mad! It all started when his Mum bought him a cactus aged 11, which he grew on his bedroom windowsill. Fascinated by this plant Daniel decided to grow his collection and his practical knowledge of these plants and secured paid employment nurturing an extensive private collection of cacti and succulents. Daniel further grew his knowledge and passion for all things cactus through being involved with the BCSS, Haworthia, MSG & Mammilaria societies; he has been a BCSS Judge in both cacti and succulents for over 10 years
Daniel's personal collection has steadily grown and now fills 9 commercial sized glasshouses; he houses National Collections of Astroloba, Gasteria and Haworthia which have been in his care for over 20 years
In 2015 Daniel started to display and sell his plants at some of the smaller Royal Horticultural Shows and following his initial success went on to exhibit at several larger shows in 2016 and took on Hampton Court in 2017. He was very excited to have been asked to feature at RHS Chelsea in 2018 for the first time. He went again in 2019 and hopes to be there amongst the horticultural best again this year
Daniel most enjoys plant propagation, nurturing seeds/seeding to their fullest potential and looking for that ever-elusive variant that Mother Nature throws up from time to time. To this end most of what he sells comes from his own nursery in Ottershaw, Surrey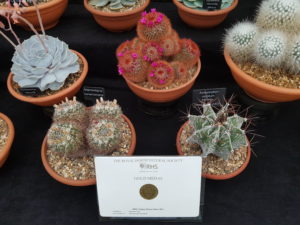 Sales
Daniel sells his plants mainly via the shows that he attends. This year he is looking to supply two local independent garden centres for most of the year with his plants and has launched a mail order webshop – do have a look.
Visitors
Daniel welcomes visitors to his Ottershaw site by appointment only. We usually host several "open afternoons" during the summer where all are welcome to come and view his extensive collection.
Open afternoons normally run from 2pm till 5pm – Please see our events page for our current dates
You will mainly find our plants for sale at the major RHS shows and our events page gives a full list of where we will be. We are hoping 2022 will be back to selling our plants at the RHS Flower Shows as well as online from our webshop, we will also be hosting limited nursery appointments across the week out of show season.  Please email for an appointment Oct – April.
Hope to see you soon