Summer Succulent Bowl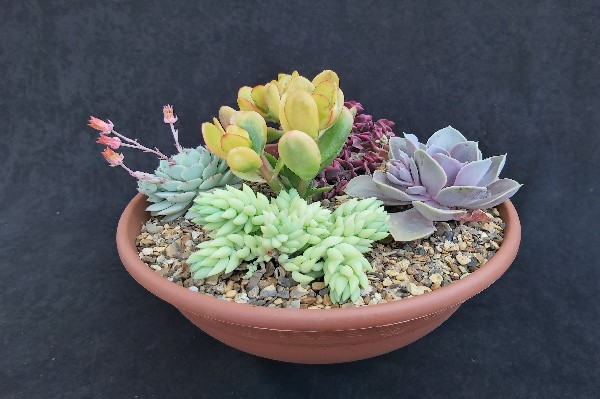 Something different for the garden
Have fun over the summer months potting up a succulent bowl
Succulents can live happily together outside all summer long enjoying all the wonderful summer sunshine, or simply display your collection in a bowl all year round in a porch or conservatory. Succulents planted together in a bowl and sat on the patio or garden table for the summer can look fantastic – all the different shapes, sizes textures and colours really zing together!
Start in late spring with smaller succulent plants that can grow into each other during the summer then as the damp starts to linger in autumn, move to the greenhouse, conservatory, porch or cool room with as much light as possible to overwinter.
Step 1 – Select A Shallow Bowl With Drainage Holes
You do not want a deep bowl that will be full of wet soggy compost that takes a long time to dry out.
Step 2 – Fill With Gritty Compost – We use 60:40 John Innes No.2 & Horticultural Grit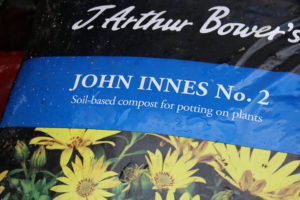 It is important that your succulents can dry out quickly; larger bowls will contain a greater volume of compost, carrying a greater risk that your plants sit damp for longer; this offers an opportunity for the roots to rot. You can help the drying out process by increasing the grit in your compost mix or by simply adding a good layer of grit to the bottom of the bowl and so reducing the volume of compost in your bowl.
Step 3 – Choose Your Plants
Select enough plants to fill the bowl. For a small bowl (25cm) go for about 5 plants, choose 2 or 3 trailing varieties, 2 or 3 rosette plants or lower growing shrubs and 1 or 2 upright growing plants.
For larger bowls you will simply need more plants in a similar ratio
Step 4 – Plant Your Plants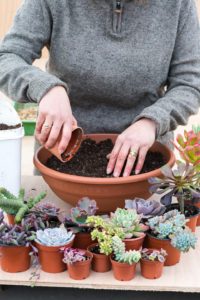 Start with the upright plants and then the trailing plants then fill in with the shrubs and rosette plants. Plant securely and top up the compost.
Step 5 – Dress With Horticultural Grit
Add a layer of horticultural grit to finish off the bowl
Training plant suggestions Sedum morganianum, Sedum 'Burrito', Crassula marginata 'Variegata', Senecio 'rowleyanus', Crassula marnieriana, Sedum aldolphii  Othonna  capensis 'Ruby Necklace'
Rosette plant suggestions Echeveria 'Lola', Echeveria setosa, Echeveria pulidonis, Echeveria 'Ramillette', Echeveria liacina, Graptoveria 'Superbum', Pachyphytum oviferum, Echeveria 'Compton Carousel'
Upright plant suggestions Crassula ovata 'Hummel Sunset', Crassula ovata 'Red Horn', Crassula ovata 'Gollum Minor', Senecio stapeliiformis, Senecio haworthii, Sedum rubrotinctum, Sedum rubrotinctum 'Aurora'
Large growing Echeverias to be displayed singularly Echeveria Pollux, Echeveria 'Red Sea Monster', Echeveria 'Mexican Giant', Echeveria 'Purple Pearl', Echeveria 'Perle Von Nurnberg', Echeveria 'Giant Blue'
Step 6 – Do Not Water Immediately
It is a good idea to leave a day or two before watering as you may have damaged the roots whilst planting and they will need time to heal over before sitting in wet compost. When ready, do water well and position in a bright spot and admire
Word of Caution – If we get a run of wet summer weather your succulents will not be happy sat outside in wet compost day after day. You will need to offer them some shelter from the rain so that they can dry out and thrive. It is a good idea to raise the bowl slightly so it can drain completely.